Transcribing audio is a massive pain. Thankfully, Otter just made it a lot easier for people stuck at home on endless Zoom meetings.
The otter.ai app, available for free or with a paid plan, is by far the single best, easiest tool ever to instantly transcribe to text a meeting with one or more people
 I use it all the time to take notes from meetings, calls, etc – but I always have to upload a recording to it after the fact or have my phone out and the app up during a call
If you've never used, otter.ai, take 10 minutes, download the app for free on your phone and just test it out – being able to search back through via text for a word or phrase that was said in an hour long meeting is incredible
And with their latest announcement, you can just plug this right into your Zoom meetings and get full transcriptions of your meeting with all of the text for each participant fully broken out – it's incredible how far this technology has come.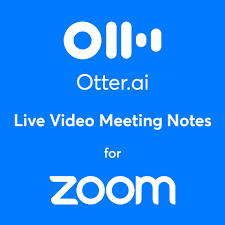 Here's the full announcement:
The folks at the popular audio transcription service announced Thursday that its "Live Video Meeting Notes" feature is available for those who subscribe to Otter for Teams and Zoom Pro. According to Otter's press release, paying users can open the LIVE menu at the top of the Zoom call to see Otter's real-time transcription and add comments or photos.Otter will also supposedly take care of downloading recorded Zoom calls for transcription after the fact, too. It can also hear both sides of a conversation when a speaker is wearing headphones.
Otter for Teams the most expensive service tier for Otter, coming in at $30 per month. That means this feature is more of a business-first inclusion, as useful as it may be for the site's free users or those who pay for the individual product. You can get two months of free Otter for Teams service with the offer code "OTTER_RELIEF," but the feature could very well be useful beyond two months from now.Teams users are having a good week, but things aren't quite as peachy for free users. As Mashable's resident Otter expert Matt Binder found out, free users are now limited to just three file uploads before they have to upgrade their plan. They can still do up to 600 minutes of live transcription per month, but transcription after the fact is now almost impossible without coughing up at least $10 per month.Still, businesses that rely on Zoom and can afford Otter for Teams might want to give this new transcription tool a shot. We also recommend the live transcription feature on the Google Pixel 4 if you've got one of those lying around.